If you're looking to buy an inversion table, we're here to help. Our experts have put together a number of comprehensive inversion table reviews, as well as made their top picks for the title of best inversion table of 2022. Their number one recommendation is the Teeter Hang Ups EP-960. For more in-depth inversion table reviews, as well as our detailed inversion table buyers' guide and guide to inversion therapy basics, keep on reading.
This site contains affiliate links to products. We may receive a commission for purchases made through these links.



Inversion Table Reviews – Get the Details on the Best Inversion Tables
Our team of experts is here to help you find the best inversion table that is right for you and your body. In fact, our goal is to not only help you find the right inversion table, but also give you some knowledge of why you may want to pick one up in the first place.
You see, the benefits of having an inversion table in your home can be second to none. Of course, every inversion table is slightly different and has unique features. And, that's why our team is here to help you compare and decide what is right for you.
Best Inversion Table for 2022

Choosing the best inversion table isn't always a straight-forward task. Different tables can work better for different individuals based on their size, weight, and inversion therapy needs. That said, there are a number of great tables which work well with a wide range of users. In our inversion table reviews, our experts will go over 7 of the best inversion tables for sale on the market right now.
Inversion Table Reviews: Top 7 Picks
Here are the inversion table reviews that you came for! Below you'll find out team of experts' top 7 picks for the title of best inversion table of 2022.
Teeter Hang Ups EP-960 Review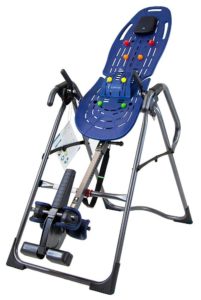 Have you tried to hang yourself upside down when you were younger? It used to be fun when you were a kid, but admit it, the idea of turning yourself upside down is scary now that you're an adult. But do you know that inverting yourself for several minutes a day can benefit your health, particularly your back?
Inversion therapy is not a new concept. The great Hippocrates, considered as the father of modern medicine, is said to be responsible for introducing inversion therapy, or being hanged upside down to reverse the effects of gravitational pressure on the spine. The Teeter Hang Ups EP-960 is a great inversion therapy instrument for those wanting to learn what the fuss about inversion therapy is all about.
The EP-960 inversion table is a mid-priced model that is advisable for use by people who are being slowed down by back problems. While some quarters may dismiss lower back problems as a minor nuisance, the reality is that it can really cause a lot of pain and discomfort. Lower back aches affect people of all nationalities, and although it usually slows down adult there are also some teenagers who complain of back pain.
Using the EP-960 inversion table regularly can correct one's posture and in turn make lower back pain go away fast.
Teeter Hang Ups EP-960 Key Features
Ankle lock system that allows users to bend over easily
Ergo-Embrace ankle support clamp system that distributes the body weight evenly around the feet and ankles
Maximum user weight of 300 pounds
Maximum user height of 6 feet, 6 inches
Easy assembly
Stretch assist handles
Bonus instructional DVD
My Teeter Hang Ups EP-960 Review and Experience
One of the first things that impressed me is the ease in assembling this inversion table. It is 90% pre-assembled so putting the other parts should be quick and easy for any adult. After reading the instructional manual, I was able to assemble this table in less than 20 minutes.
I had never used an inversion table before so I started with just a 20 degree inclination. Good thing that this inversion table has an angle tether strap that I was able to use to change the angle of conversion. I waited until my body got used to the degree of inclination. After a few days, I was able to invert my body at 40 degrees, then 60 degrees a couple of days later.
I liked that this inversion table smoothly inverts according to the pre-set angle. There were no worries on my part since the table is built from quality material, as shown by the heat-treated steel parts. Other security features that make me unperturbed whenever I am inverted on this table are auto-locking hinges and pivot bearings.
The table's bed also allows me to stretch my back rather easily, and the presence of integrated stretch handles assists me in doing all those stretching exercises that I learned from watching the instructional DVD. It's a safe guess to assume that the EP-960 table is appropriate for overweight people needing extra support because of the ankle lock system. The table also has an integrated handles located at both sides. This is where one should hold on to during inversion and descent.
A common fear amongst those who have never tried an inversion table before is security, especially if the table is inverted at the maximum angle. But I never worried about my security because of the ankle lock system of the table. Even when I find the guts to try inverting myself at 60 degrees, the table was able to hold me quite well
One of the more common complaints people have with inversion therapy tables is the pain they feel in the ankle. I never experienced any pain in my ankles using this table. I later found out that this is due to the table's ergo-embrace ankle system which distributes the body weight evenly on the feet and ankle. I also put on socks whenever I utilize this table.
I have been able to get rid of my lower back problems after a week of using this inversion therapy table. I realized that most of the time, back problems are caused by poor posture. The Teeter inversion table has made me correct my poor posture, and this has cured my lower back aches. And I also noticed that I have become more relaxed ever since I started using this inversion table.
However I was not happy that the EP-960 inversion table weighs more than 70 pounds. Although it folds very quickly and can be stored behind a door or inside a closet, moving the EP-960 is quite a challenge for a 40-year old mother like me.
Teeter Hang Ups EP-960 Price
The EP-960 inversion table is priced in the mid-to-high range. I was hesitant at first to buy such a pricey model but then again I realized that you get what you paid for. I was not going to buy a cheap inversion table that could break down easily, or collapse when I am inverted. So I decided to buy this high-end model knowing that it has the security features I covet in an inversion table.
True enough, the EP-960 inversion table has delivered in terms of performance and reliability. The features are very impressive, and I love that it has a very sturdy frame. I think this inversion table would last for a long while.
My Teeter Hang Ups EP-960 Conclusion
That said, I can recommend Teeter Hang Ups EP-960 inversion table to anyone who is being bothered by lower back pains. The only real cons of this inversion therapy table are its price and heaviness. Storage can be a problem for people who don't have a lot of space in the house, and its expensive price tag can scare off budget-conscious buyers. But apart from those minor complaints, I believe that this inversion therapy table is worth the price tag considering that it can effectively relieve lower back pain. And for that I give it a rating of 4 out of 5.
Ironman LXT850 Inversion Therapy Table Review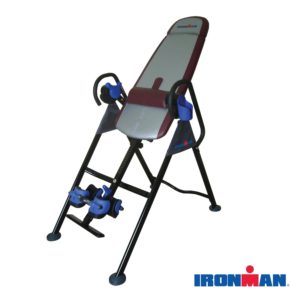 The Ironman LXT850 is one of the most popular inversion tables out on the market today. This table puts into practice the principle of inversion therapy, which is built on the idea that hanging a person upside-down will take off gravitational pressure on the spine, increasing space between the vertebrae and resulting to various health benefits.
The Ironman LXT850 promises lots of health benefits to its ranging like losing weight for those who on the heavy side. It can also be ideal for those who want to improve their overall health. And for some people, this inversion table can help them relax and de-stress after a long day at work.
The LXT 850 is made of durable, scratch-resistant frame. It can ensure the safety of the persons using it with its ankle holders. The Ironman lxt850 inversion tableLXT850 locking inversion therapy table also has a smart gear that enables it to lock in at 10 different angles. And this therapy table can support adults weighing 300 pounds or less.
Ironman LXT850 Key Features:
Strong, oval tubing steel frame ensuring durability and long-term use
Matte back black finish, resistant against scratches
Foam-padded backrest with extra-comfortable vinyl lumbar pad for enhanced back support
Ankle holders that avoids pinch point pressure while user is inverted
Smart Gear that enables table to lock in at 10 different angles
Super Side holder for storage of cell phones, wallets, eye glasses, and different user accessories
Scale Locking system that secures the ankles
My Ironman LXT850 Inversion Table Review & Experience
My primary motivation in buying the Ironman LXT850 was to address my chronic lower back pain. I've tried numerous products that claimed to be effective in relieving back pain, but all of them failed me. So you can imagine how happy I was to find out that the LXT850 does deliver in alleviating my lower back pain.
I am not the best when it comes to assembling equipment but putting together this inversion table did not pose any problems for me. Assembly was easy as it only took me about an hour or so to put it together. I only needed a screw driver to assemble the LXT850.
One of the first things that I noticed about the inversion table is its size. It is big and takes a lot of space in the room. I had to clean my living room and get rid of some chairs so it would have enough space to accommodate the inversion table. It's a good thing that this inversion table folds up, thus I can store it rather effortlessly.
I felt the blood rushing to my head the first time I used the LXT850 inversion table. It was not comfortable at all but I was able to withstand the discomfort. But eventually I got used to it. The fact that it has 10 different inversion angles makes the LXT850 ideal for people like me who have never tried inversion therapy before, as I was able to adjust the angle and find one that suits my liking.
At first, there was some pain on the feet after I tried to have my body fully inverted. But I realized that wearing sneakers or thick socks could lessen the pain. I immediately felt pressure in my spine after using this table. I also found the back and head rest with polyurethane foam cushion great.
But without a doubt, the most important feature of this machine is the scale locking mechanism. With it, I never feared for my safety as it locks in my ankles and allowing me to perform the exercises properly. In fact there were times I fell asleep on the machine with my body slightly inverted, and it was possible because I was so relaxed thanks to the scale locking mechanism of the inversion table.
The LXT 850 locking inversion therapy table is also solidly built and stable enough for a big person like me. I'm 6 foot three, 290 pounds yet this table is still strong enough to accommodate my frame. I've also learned that the key to getting the most out of this locking inversion therapy table is to do the exercises at your own pace. At first I allotted just five minutes of my morning for this table, but now my body has grown accustomed to it that I find myself spending up to 20 minutes on this table.
Of course, I can't end this review without stating how this inversion table has cured my lower back problems. After just a week of using the LXT 850, I was no longer complaining of lower back pain. And I've also been able to manage my stress well thanks to this instrument.
Ironman LXT850 Inversion Table Price
The LXT 850 inversion table sells for around the middle of the price range on Amazon.com. It is a mid-priced inversion table that should appeal to budget-conscious buyers and customers who want a quality inversion table. It can be argued that this is the best-priced inversion table around as it has the great features of a high-end inversion table but is priced much like an entry-level inversion therapy table.lxt850 inversion table
My Conclusion for the Ironman LXT 850
The Ironman LXT 850 locking inversion therapy table is one product I can recommend to people who are suffering from back pain. It is easy to assemble and use. Although it takes up a lot of space, the inversion therapy table easily folds up for quick and convenient storage.
Back pain sufferers should try this inversion therapy table as it can greatly relieve the pressure off the spine caused by gravity. A few minutes pent on this inversion table should correct the alignment of the spine and lessen the pain in the lower back. As many experts have pointed out, lower back pain is mostly due to poor posture. The Ironman LXT850 corrects poor posture and this in turn leads to relief of lower back pain.
And with its reasonable price tag, it's easy to understand why I give this product a perfect 5/5 rating.
Teeter Hang Ups EP-550 Review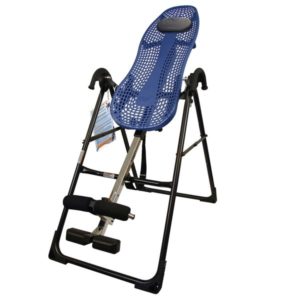 Teeter is a reputable company that manufactures and sells inversion therapy tables. Its EP-550 is no exception, continuing the tradition of the company. People who have been bothered by back problems should give this inversion table a try, and even those who just want a means to relax and de-stress after a grueling day at work.
The Teeter Hang Ups EP-550 inversion table features Teeter's patented ergonomic flex-technology and a host of other functions that are designed to provide comfortable and safe inversion to its users. Spending a few minutes on this table everyday should provide back pain relief to anyone.
And it is not surprising that the EP-550 has gotten a lot of raves from satisfied users. After all, this is from Teeter, considered as the pioneer in the inversion table production. It has been making inversion tables for more than three decades now and it continues to help people suffering from lower back problems.
Teeter Hang Ups EP-550 Key Features:
Ergonomic Flex Technology that allows greater range of motion.
Decompression surface that limits friction and enables the body to slide
Easy-to-clean surface
Ankle comfort system that securely and comfortably locks down feet regardless of size
Superior design that ensures precision balancing on the part of the user
Tether strap which users can adjust or remove depending on the angle of inversion
Stable base
Rubber-coated hand grips
Scratch-resistant, powder-coated finish
Instructional DVD
My Teeter Hang Ups EP-550 Review and Experience
I've heard a lot of positive feedback about inversion therapy and how it is supposed to make our lower back problems a thing of the past. I tried using an inversion therapy table once and although I was able to have my body inverted for nearly five minutes, I was very scared that the table would collapse. I am 6 feet 2 inches in height and weighs nearly 250 pounds, so you could imagine how big I am.
So when I shopped for an inversion table, my main requirement was that it should be safe. I believed I made the right decision in purchasing the EP-550. Whether I invert myself at 20, 40 or 60 degrees using this table, I am not worried that the table could collapse anytime because the frame is made of high quality steel. The corner feet also increases the frame base significantly and reduces the risks of sliding.
I also feel secured whenever I lock in my ankles with this table's ankle comfort dial and ankle clamp. There are also auto-locking hinge and cam locks that further enhance the safety of the user. I also liked the de-rattler knob as well as the rubber coated hand grips of this table.
I have also benefited from using this inversion table on a regular basis. I have been complaining of lower back aches for years now but I've been pain-free ever since I started using this Teeter inversion table. The EP-550 has improved my posture and as such, lower back pain relief has followed suit. I also observed that this table has made my tense muscles relaxed especially when I use it following a long day at work.
I started using the EP-550 inversion table thrice a day, around five to 10 minutes every session. Since I have tried inversion therapy before I was comfortable at a 60 degree incline. I was really surprised that 90% of my back pain was resolved on the third day of using the EP-550 inversion therapy table.
I continue to use this table whenever I feel some tightness in my back. This table has also improved my joint flexibility. I guess that explains why I am now able to run longer and why I am beating my friends in tennis.
I also learned that this table is customizable. You could put a vibration cushion with an infrared neck pillow on it to promote circulation and relax your muscles, as well as gravity boots and traction handles.
The only beef I have with this inversion table is that it is heavy. It's quite a struggle to drag it to my storage room. And the table is quite big to be slid under the bed. Fortunately I have a spacious bedroom so storage is not really a concern for me. But for those with cramped rooms, this table could prove to be a storage nightmare.
Teeter Hang Ups EP-550 Price
The EP-550 is sold within the medium price range. This is a mid-priced inversion table and I can dare say that with all the features incorporated in this product, it could be the best model among the many inversion tables produced by Teeter.
For the budget-conscious buyer, this might be too much to pay for an inversion table. But I look at it in another way. A trip to the chiropractor isn't cheap, so why not invest in an inversion therapy table like the Teeter EP-550 instead? I used to frequent a chiropractor several years ago but I have never been to one since I bought the EP-550. In the long run, the Teeter inversion table has given me a lot of savings because I no longer needed to pay a chiropractor a lot of money for an hour or so of consultation.
Teeter Hang Ups EP-550 Conclusion
To say that the Teeter EP-550 inversion table is a highly-recommended product is an understatement. This inversion therapy table has everything you are looking for except for the fact that storage can be very difficult. For a very reasonable price, the EP-550 table has the security features that will make you at ease in using it. The EP-550 likewise gets plus points for being customizable.
Although many potential buyers might be turned off by its price, the EP-550 is a worthy investment. Using it regularly will heal lower back problems and correct one's posture. It can also be a good instrument for tired people to use at the end of the day, particularly in relaxing their tensed and stressed-out muscles.
Teeter Hang Ups EP-950 Review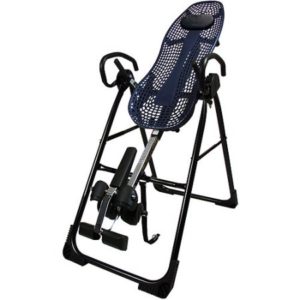 Many people around the world complain of lower back problems. But most of the time, lower back aches can be addressed by improving one's posture and minimizing the gravitational pressure on the spine. This is where inversion therapy tables like the Teeter Hang Ups EP-950 come in. This inversion therapy table presents a valuable instrument for improving posture, reducing back pain, coping with stress and enhancing one's quality of life.
The Teeter Hang Ups EP-950 is a terrific choice for people who have never tried inversion therapy before. It has security features that can assure the safety of the person using it, which is important for anyone who has never been inverted before. It is also very easy to use, and while the price may be a bit steep for some it still is a good investment considering that it can make those trips to the doctor or chiropractor no longer a necessity.
Teeter Hang Ups EP-950 Key Features:
Flex Technology design that allows users to move freely
EZ Stretch handles that increase traction and enhance the stretching experience
Tether strap that lets users preset the inversion angle at 20, 40 and 60 degrees.
Ankle comfort dial which adjusts to small and large feet
Strong base and easy-to-clean parts
Scratch-resistant powder coating
Instructional DVD
My Teeter Hang Ups EP-950 Review and Experience
I've tried inversion therapy tables before but was worried about my safety. I'm 6'6 and weighs nearly 300 pounds so I am not small by any measure. But I was glad to have bought this inversion table as it was able to support my body. I learned that this inversion table can support guys as big and tall as I am.
I can say that this table has a very strong base that makes it possible for it to hold big guys like me. I found the ankle comfort dial a very nice feature as it adjusts depending on the size of the user's feet, and it secures the ankles very well. Plus the coating is scratch resistant so this table should last for many years.
And while I was worried that much of the pressure would go to my ankles and feet, I was pleasantly surprised that the table did not put any discomfort on my ankles. I learned that this is due to the specialty foam cups that surround the ankles and the ankle closure system which makes it possible for the table to distribute body weight around the foot and heel.
There are pivot bearings that make enable the user to change inversion angles without the irritating squeaks and rattles. I also loved that there are padded support handles that I could hold on during inversion and ascent. There is also the EZ-Stretch traction handles that make stretching and decompression more pleasurable.
Although I have tried inversion therapy before, I was still not used to having my body inverted. It helped that the EP-950 inversion table has various inversion angles of 20, 40 and 60 degrees. So I started with the 20 degree inversion for a couple of days, switched to 40 degrees the next week, and then 60 degrees a week later.
The instructional DVDs included in the package further made me appreciate inversion therapy. I learned how to warm up my spine in the mornings just by watching the DVDs. I likewise learned how to correct my posture using this table.
This table also folds easily for easy storage. This is something I was appreciative of because I live in a small apartment where space is a premium. I was hesitant at first to buy an inversion table because most models I saw online were quite big, but the EP-950 is different.
Of course, no review would be complete without mentioning how big of an impact the EP-950 inversion therapy table has been on my back. After just a couple of days of using this inversion therapy table, I noticed less pain on my lower back. I found out that inversion therapy really works in reversing the effects of gravity on our body. I believe that the pain relieving effects of the inversion table on my lower back was due to the decreased pressure on the discs, nerve roots and ligaments on the spine.
I play a lot of golf in my spare time and I believe that age has caught up on me. Five years ago I could play golf all day long but now my back would ache just after an hour or so of play. But thanks to this inversion table, my back's health has improved significantly that I no longer complain of lower back aches. I started with just a few minutes of inverting myself on this table and thus far the effects have been very encouraging.
EP-950 Price
The price of the EP-950 inversion therapy table is towards the high end of the scale. This is one of the more expensive inversion therapy tables in the market today. While it is a bit expensive compared to other inversion tables, no one can question its price because of the numerous functions incorporated into this model.
My Conclusion for the Teeter EP-950 Inversion Table
The Teeter EP-950 is one of the most recommended inversion table models today. It has all the features you'd want from an inversion therapy table. It is sturdy and strong enough to accommodate big guys, with its weight capacity of 300 pounds and height limit of 6 feet 6 inches. It also folds rather easily so you could store this underneath your bed or a spare area in your room.
This Teeter inversion table also locks up the ankles well enough that you won't be afraid of inverting yourself even at its maximum angle of 60 degrees. And it is great that the EP-950 comes with instructional DVDs which you can refer to if you are not sure of what to do with this table. Overall, this inversion table gets a rating of 5/5.
Ironman ATIS 1000 Review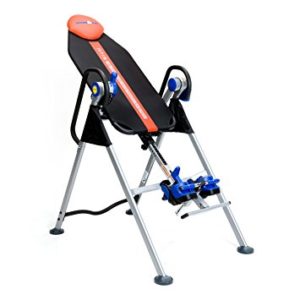 Does your job require you to sit or stand for long hours? Do you always find yourself being slowed down by lower back problems? Why don't you try using an inversion therapy table that can correct your posture, alleviate pressure on the vertebrae, improve blood circulation and relieve back aches? The Ironman ATIS 1000 inversion therapy table is one good investment because can spare you from spending a lot on chiropractor consultations.
People who don't have an inversion table often complain about the prices of inversion therapy tables. Some of the high-end models of inversion tables go as high as $500 or even more. The prohibitive price has prevented a lot of people from buying an inversion therapy table, but this should not be the case for the ATIS 1000. This is one of the more reasonably priced inversion tables around, and it does not also lack the critical safety features.
Regular use of the Ironman ATIS 1000 would result to numerous health benefits like improved blood circulation, reduced back pains and stress. It can also be a means to work out the abs and improve one's overall health.
Ironman ATIS 1000 Key Features:
10 different inverting angles
Non-skid floor stabilizers made of high quality rubber
Aside from being an inversion table, also serves as an abs training system
Easily folds for convenient storage, weighs around 70 pounds
High quality steel frame, memory foam vinyl pillow, and nylon backrest
Scale locking system for easy locking adjustments
Comfortable and secure ankle holders
Side holder for small accessories like eye glasses and cell phone
My Ironman ATIS 1000 Review and Experience
Only a few inversion tables can match up with the ATIS 1000 in terms of versatility. You can search the Internet and you will be hard pressed to find other inversion tables that can also double as an abs workout machine. The Ironman ATIS 1000 is an inversion table and abs workout machine rolled in one piece of equipment, and this trait makes it all the more special.
The first time that I used the Ironman 1000 inversion table, I noticed that it also targets the abdominals. I then read the instructional manual and it confirmed that this inversion therapy instrument not only stretches the back but it also lets users build and strengthen their abs.
The abs strengthening system is good, but of course I bought this inversion therapy to relieve the lower back pain that has hounded me for years. And I was pleased that only a few days after using this inversion therapy table, my back's condition had improved by leaps and bounds. I no longer have to go to a chiropractor now that I have my own inversion table.
Since I had never used an inversion table before buying the ATIS 1000, I was really concerned with the inversion angles. I feared that hanging my body upside down would be too much for me. The ATIS 1000 inversion table has 10 different inversion angles, so I was able to find an angle that I was most comfortable with.
The comfort in using the ATIS 1000 inversion table was further enhanced by its heavy nylon backrest that is supported by a memory foam pillow. Although the backrest has a vinyl pillow it is still tough and durable. More importantly it gives ample support to the head.
I was not concerned at all with the stability of the inversion table. I saw that it has rubber floor stabilizers that won't skid on any surface. And even if I am more than 200 pounds, the table was able to hold up. I learned that this table has a maximum user capacity of 300 pounds and its height can be adjusted to 6 feet 6 inches.
First-timers like me won't have any problems using the Ironman ATIS 1000. Simply lean against the nylon backseat, slip your foot into the ergonomically designed ankle locks, and reach your arms over the head. Your body would gradually invert as your arms go up. There's no need to exert a lot of pressure or force to invert your body.
My health has improved by leaps and bounds after using this inversion table for several weeks. I have observed that the back pain that has slowed me down for years has lessened tremendously. I can now engage in activities like golf, running and swimming without worrying about my back problems. And carrying my two-year old grandson no longer gives me back troubles.
Another feature I liked is the side holders located in the table. Here I can store accessories like my eye glasses and cell phone as I invert my body. It's a very simple but functional feature that other inversion tables don't have.
The only complaint I have is that the ATIS 1000 inversion table is a bit heavy at 76 pounds. Although it folds quickly for quick storage, it can still be very difficult to haul or push.
Ironman ATIS 1000 Price
The Ironman ATIS 1000 is sold in the middle of the price range for inversion tables. This is actually a mid-priced model that has all the features you'd want in an inversion therapy table. It is hard to find another model that has the same competitive pricing and equipped with security features.
Some budget-conscious shoppers may find it hard to part with their money for this inversion table, but I can say that this is worth the price tag. Since it can relieve low back pain in no time at all, the Ironman ATIS 1000 actually allows users to save money because they no longer have to spend for consultations with a doctor or a chiropractor.
Ironman ATIS 1000 Conclusion
Reasonably priced and equipped with safety features that make inversion therapy comfortable, the Ironman ATIS 1000 is highly recommended. People who want a long-term solution to their lower back problems should give this inversion table a try. Given its features and reasonable price I give this inversion therapy table a rating of 5 out of 5.
Body Champ IT8070 Review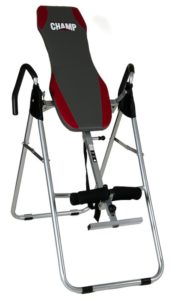 Are you looking for a cheap but reliable inversion table? Then the Body Champ IT 8070 may just be what the doctor ordered for you. This table will benefit your back and overall health as it can reduce the stress on your spine by hanging you upside down. While that may be a scary proposition, you have to realize that this inversion table has the security features to prevent you from sliding while you are inverted. It is very basic inversion table that would appeal to budget-conscious shoppers.
Inversion therapy has proven to be an effective way for people to heal their lower back aches. Most of the time, lower back problems are due to stress and poor posture. You don't actually have to take painkillers for lower back pain, or undergo surgery to correct it. You can try inversion therapy which relieves back pains due to extended pressure on the spine.
Body Champ IT8070 Key Features:
Adjustable height range of 4'7" to 6'8"
Spring-loaded pull-pin ankle adjustment system
Foam cushion for extra comfort
U-shaped handrails for extra security
Safety strap allowing user to control the inverting angles
Safety lock which holds the table when not in use
Easily folds for convenient storage
Inverting speed controls
Can accommodate user weighing as heavy as 250 pounds
My Body Champ IT8070 Review and Experience
One of the first things that I noticed with this inversion table is that it is semi-assembled. The moment I got it out of the package I knew that it would only take a few minutes for me to bring together this table. And I was right, as the inversion table assembly took me less than 20 minutes.
This inversion therapy table is height-adjustable meaning adults standing 4'7" up to 6'8" should be able to use this one. And even if you weigh around 250 pounds, this inversion table will be able to hold up.
One of my concerns with the inversion table is the security. I am more than 200 pounds and although the weight capacity of this table is 250 pounds I feared that it would break down from constant use. So far, the table has proven to be sturdy enough.
The ankle lock support system is nice, holding my body weight when I am inverted. My back doesn't feel uncomfortable at all as the table has high-density foam cushions that support it against the sturdy board. It is also easy to find the appropriate height position with the dual-pin system of the table.
This table is very easy to use. There are no buttons to push. You simply have to raise your hand above the head, and this would alter your body balance and make your body invert to a pre-determined inverting angle. You won't have to worry about your safety as there are safety straps and locks to keep your body in place and you can also hold on to the handrails in case you want to go back to a sitting position.
Going back to the inverting angle, the minimum angle that you can reverse your body into is 15 degrees. The maximum inverting angle is 90 degrees. You can also set the angles according to your preference using an adjustment bar.
A feature that I liked is the adjustable settings that would allow users to control the inverting speed of the table. This is important as you could suffer from whiplash because of the quick movement of the inversion table. This is a feature that most inversion tables, even the high-end ones, don't have.
I have been using this inversion table for more than two months now and I could say that it has helped me with my back problems. As a computer programmer I spend a lot of time in front of the computer. I have been complaining of back pains for years now and my chiropractor suggested that I invest in an inversion table.
But I was not really inclined to spend a lot of money on an inversion therapy table given that I had never tried a table not even once. So I decided to buy a cheap one just to get a feel of how inversion therapy works. I found the IT 8070 online and surprised that it retails for a very low price, I immediately bought one.
The IT 8070 inversion table has given me reasons to believe in inversion therapy. I can remember the first week of using the Body Champ inversion therapy table. I was really scared of being inverted, but after a few minutes of hanging upside down I got used to the feeling. A couple of nights later, I swear I was able to sleep soundly without being bothered by a sore back.
After a few weeks of use, not only was my lower back problems gone but I also noticed that I was no longer stressed out. There were even times that I found myself dozing off while I was inverted which only shows how comfortable I have become in using this inversion table.
Of course there are some downsides to using this table. I remember being uncomfortable with the ankle adjustment system, but I realized that wearing socks and rubber shoes can resolve the issue.
Body Champ IT8070 Price
The IT 8070 inversion table sells on the budget-friendly side of things, making it one of the more affordable models around. I can attest that despite its low price, it delivers in terms of performance. It has proven to be strong despite me using it on a regular basis. And notwithstanding the lack of other features like side holders, I can say that this inversion table is one of the best models in the market today.
My Conclusion for the Body Champ IT8070
The IT 8070 has proven to be a very sturdy, easy-to-use, and reliable piece of equipment. And because it is so cheap, I can dare say that this inversion table is one model that you should acquire especially if you are suffering from lower back pain.
Body Max IT6000 Review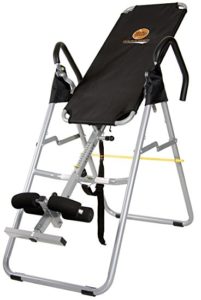 The Body Max IT6000 is a reasonably priced inversion therapy table that should appeal to people who are suffering from lower back problems but hesitant in getting a high-end inversion table. This table allows users to try inversion therapy right in the comforts of their home. It is stable enough to hold a guy weighing 250 pounds, and has nice features you don't really expect from a low-end model.
Lower back problems are often dismissed by many as a minor inconvenience. But it should not be seen that way, especially if it causes serious disturbance to one's day-to-day activities. For example, fathers who used to spend their mornings running with the rest of their families may not be able to do this simple activity on a regular basis if their lower back continues to fail them.
The Body Max IT6000 is built to address lower back aches of its users. It can correct spine alignment brought by years of poor posture, and even soothe tired muscles. In fact it serves not just as an instrument to relieve lower back pain but can also be considered as a means to promote a healthier, more relaxed individual.
Body Max IT6000 Key Features:
Weighs 51.1 pounds but easily folds up for easy transport and storage
Pin adjustment system that allows it to accommodate people of different heights, from 4'8" to 6'3"
Spring-loaded pull pin that facilities convenient ankle adjustments
Maximum weight capacity of 250 pounds
With U-shaped handrails that assist users in going back to sitting position
Safety strap that lets users control inverting angles
Safety lock which keeps the table secure
My Body Max IT6000 Review and Experience
The Body Max IT6000 inversion therapy table can be considered as an entry-level model. Its price and modest features make it an attractive option to people who have never tried inversion therapy before. For most adults, the idea of being inverted can be very scary. Even people who have been in an inversion table before say that the rush of blood to the head takes a few days to get used to.
One reason why inversion therapy is a scary idea for most people is that they fear that the inversion table won't be able to hold up. The IT600 inversion table is strong enough to hold a person weighing as heavy as 250 pounds and as tall as six feet three inches.
It has a safety lock feature that allows it to secure the user while he or she is inverted. There is also a safety trap that keeps the user safe even as he or she does all those inversions at various angles. And its sturdy frame should appease worried users who are concerned with their safety as the inversion table will be able to hold up as long as the individual is within the maximum weight capacity.
On my part, I was chiefly concerned with the storage of the inversion table. I have tried inversion therapy before and I could say I was not really scared of being inverted. My worry was that an inversion table is a storage nightmare, with most models I've seen weighing close to 100 pounds and thus almost impossible to move around the house. And because I don't have the most spacious of homes, I was really concerned with the storage of an inversion table.
So I was pleasantly surprised that this equipment weighs only 50 pounds which is around 20 to 30 pounds lighter compared to other models in the market. And its design allows it to be folded up and stored in a storage room or closet when not in use.
Its manufacturer suggests that users spend at least 10 minutes on this table daily. I heeded that advice and thus far I have been able to reap the benefits of using this inversion table. I am no longer complaining to my wife about my lower back aches, and my basketball friends notice that I look spry on the court. I told them about my daily routine and I believe all of them are now planning to buy this model.
I admit that I was not really inclined to buy a pricey inversion table given that I was not sold on the idea of inversion therapy at first. This explains why I opted for this model instead of other more expensive inversion tables. I guess that this no-frills table is very appropriate for people who want a cheap but practical instrument for solving their back aches.
Of course, the Body Max IT6000 is far from being the ideal inversion therapy table. Because it is a no-frills model, you can't expect it to have features present in other inversion tables. It lacks a side holder that is a fixture in other higher-end models. Some may also frown at the lack of padding in the footrest. But do you really expect a lot from such a cheap inversion table?
Body Max IT6000 Price
Much has been said about the reasonable price of the Body Max IT6000, and you would be surprised to learn that this only costs a fraction of the price of other tables. The very affordable price of this inversion table makes it very ideal for people like me who are hesitant in spending a lot for an inversion therapy equipment, as well as those who don't have the money to acquire a high-end model.
My Conclusion for the Body Max IT6000
Given its very low price, I can readily say that the Body Max IT6000 is a steal. Yes, it does not have a lot of features but when you think of it, inversion tables should only have one purpose and that is to safely invert its users so that they can get the health benefits of inversion therapy.
It's hard to find another inversion table that can match-up with the IT6000 in terms of price. Although the features are very limited, you can bet that this should be enough to invert you up to an angle of 60 degrees. More importantly this piece of equipment should correct your posture and make your lower back problems a thing of the past.
Why an Inversion Table?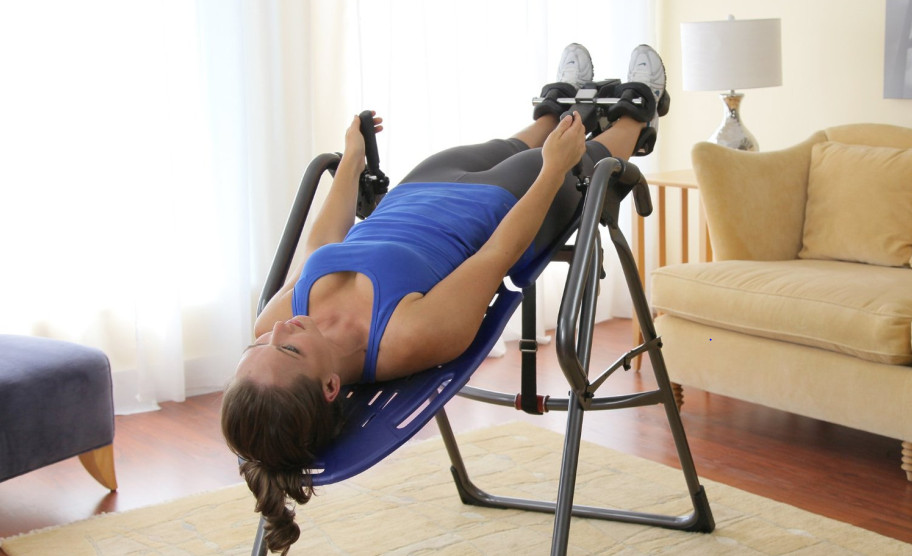 An inversion table can help redefine the way you feel in more ways than one. Whether you have constant and agonizing back pain, poor posture, and overwhelming stress or seek to increase your flexibility and more, inversion therapy can help you eliminate your problems and bring the life back into your body – one day at a time.
Inversion tables take away the pull of gravity, minimizing compression on your spine and allowing the muscles around it to relax. This allows your spine to space itself from your vertebrae, thus helping relieve your back pain and allowing your spine to readjust itself for better posture, circulation and more.
What Are the Basic Things to Look For in an Inversion Table?
All of our inversion table reviews cover those products that have the following basic features:
Safe, sturdy and durable structure
Variety of adjustment angles
Convenient for home use
You will also find other unique features and functions that vary from model to model to fit your personal preferences, too.
Get Ready to Turn Your Life Upside Down – the RIGHT Way
Once you find the inversion table that is right for you and start an inversion therapy regimen, you will start to experience and feel the amazing benefits that inversion therapy has to offer.
So, now that you know a little more about this unique, one of a kind therapy and what it can do for your body, take a look at the different products available to find the best inversion table for you and your body today.
What are you waiting for? Say goodbye to back pain and hello to a newer, better YOU!
What Is an Inversion Table?
An inversion table reverses the downward pressure on the spine. It is commonly classified as a weight machine, although curiously, it does not come with any weight. Instead, the body of the person using it acts as the weight. The inversion table has the appropriate tools and safety features to enable the user to stretch the back as well as the joints.
There are numerous benefits of using an inversion table. It can reduce the pressure on the spine, nerves, and joints. It can also improve the body's flexibility, enhance joint function, improve body posture, and increase the flow of blood to the head.
What Do Inversion Tables Do?
Inversion tables are designed to hold an individual upside down with the intention of relieving lower back pain. Also called by other names such as gravitational traction and inversion therapy, the idea is the flipping the body over will unload the joints, bones, and discs in the lower back. By doing so, a traction force is created through the spine which can decrease the pain in the lower back.
Do Inversion Tables Work?
There are scientific studies that back up claims that inversion therapy can help in relieving lower back pain.
In 2007, a study by experts at the Newcastle Hospital showed that regular use of inversion tables could relieve back pain and decrease the urgency for back surgery. In the said study, patients who were advised to undergo sciatic operations were grouped into two. The first group underwent regular inversion therapy with regular physiotherapy, and the other group had participants practicing solely physiotherapy.
The study showed that those in the first group were about 70 percent less likely to undergo surgery because the lower back pain was reduced. According to the head of the Neuroscience division of Newcastle University in England, Professor David Mendelow, inversion tables can help save approximately $160 million in unwarranted surgeries.
Health benefits may vary depending on the angles at which the table is inverted. When the table is inverted at 20 to 30 degrees, the body starts to benefit from improved circulation and oxygen flow. At 60 degrees, you can gain health benefits like back pain relief, improved blood circulation, reduced stress and tension, healthier movement for the ligaments, and better overall health.
How to Use an Inversion Table

In using an inversion table, make sure that you are in a spacious room. There should also be no nearby tables and chairs and other distractions so that you can safely use the inversion table.
If you have never used an inversion table before, you can start with a shallow inversion. Being inverted at an angle of 15 degrees for two minutes should gently stretch the muscles and spines. This can be done once or twice a week. As you begin to get acclimated to the exercise, you can try steeper inclinations of 30 degrees or more.
When you use an inversion table, you must always see to it that it is adjusted to your height. You can refer to the instruction booklet to adjust the table accordingly. Put your feet in the footrests with your back against the table. Check if the safety straps are attached correctly, and then fasten and tighten them.
Slightly lean back so that the table will rotate and invert. When you are hanged upside down, you must inhale through the nose and exhale through your mouth.
There are basic exercises you can do while using an inversion table. Like, you could reach for the ground so that your spine is elongated and the arms kept straight. Sustain the stretch as long as possible, if possible for 60 seconds.
Are Inversion Tables Safe?
Inversion tables are safe. There are safety straps in the tables to prevent you from slipping while performing exercises. Some inversion table models also come with anti-skidding mechanism to prevent the table from moving as you perform exercises. However, it is advised that you have a buddy or spotter while you perform exercises.
But inversion tables should never be used by pregnant women or people with high blood pressure, spinal problems, cerebral sclerosis, and glaucoma. Likewise, those who have circulatory ailments are not advised to practice inversion therapy.
What is the Best Inversion Table?
There are many types of inversion table in the market, and the manufacturers of these tables all insist that they have the best inversion table today. The best inversion table should be safe, comfortable, spacious, and reasonably priced. It also has multiple functions like preset rotation controls and full inversion capability.
The best inversion table ought to be safe because it will have you upside down. Safe inversion tables are sturdy and capable of locking your ankles securely and comfortably. One of the things that would tell you about the sturdiness of the inversion table is its weight. Usually, the heavier inversion table is, the more likely it is made of stronger materials and thus the sturdier it is.
The best inversion table should also be comfortable. It must have an ankle restraint system that is easy to use and keeps your ankle locked in securely. Comfortable tables also have a nylon or padded mesh board.
You can consider inversion tables with multiple features as among the best. These features may include preset rotation controls that will enable you to set the maximum inversion angle, full inversion capability, and multiple inversion angles.
The best inversion table is reasonably priced as well. Depending on the features, an inversion table may be priced between $150 to well over $500. The best inversion table is also spacious and comes with options like handlebars and accessories like gravity boots and vibrating cushions.
One feature you'd like to have in an inversion table is the lumbar bridge. This is an additional function that provides the lower back extra support and stretch. This arched-shaped bridge supports your lower back, adding decompression and allowing spinal alignment. A lumbar bridge is particularly important if you are suffering from lower back pain.
Other features of inversion tables that you'd want to have are traction pads, vibration support and acupressure nodes.
Two inversion tables could lay claim to being the best in the market right now. First is the Teeter Hang Ups EP-960 which is priced in the middle of the range. It has a patented stretchable grip, an advanced bed design that makes the table comfortable, as well as an ankle locking system that provides enough support to the ankles.
The Ironman ATIS 1000 may also be considered as the best inversion table in the market. Priced aa a more affordable expense, this model may be cheap but it does not compromise on quality. It has more than 10 various locking angles, a tough tubing steel frame plus a scratch resistant coating. It also has a sturdy and durable nylon foam that comprises its backrest. The ankle holder is also made of superior material, and easily locks in place.
Although the ATIS 1000 is limited to an inversion angle of 90 degrees, this model should suffice for the casual user. Other important features of this inversion table are its side plastic holder where you can keep your things and an easy-to-fold body. The ATIS 1000 can accommodate users weighing more than 300 pounds.
Are Inversion Tables Good For You?

There are a lot of benefits that you can get by using an inversion table regularly. One is improved posture, as inversion therapy has been proven effective in realigning the spinal column. When this happens, there is good likelihood that your entire body posture will be improved as well.
Another benefit of inversion table is that it makes your muscles relaxed. Did you know that it is hard to relax tense muscles even when you are asleep? There are a few treatments effective in relaxing the muscles, and inversion therapy is one of them.
Damaged discs in the body may also be rejuvenated through inversion therapy. By regularly using an inversion table, you can provide much needed rejuvenation and nutrients to your spinal disc. Plus, you can rejuvenate damaged discs in your body like bulging discs, herniated disc, and degenerated discs.
Another important benefit of inversion therapy is the improved blood circulation in the body. As you grow old, the flow of blood around the body becomes less effective. But by regularly using an inversion table, you can improve blood circulation.
Increased blood circulation has its benefits like a healthier heart. You'll also feel and look healthy. Your brain function will also get a boost, and you'll feel that your mind is sharper and more focused. And you'll be in a better position to handle stressful situations.
By regularly using an inversion table, you can also combat aging. You might have heard that people tend to get shorter as they age. Using an inversion table on a regular basis makes it possible for you to align and strengthen the spinal column, thus lessening the chances that you'll get shorter as you advance in age.
Are Inversion Tables Good for Lumbar Pain?
Yes, inversion tables are ideal for people who suffer from lower back pain or lumbar pain. Inversion therapy temporarily lengthens the spine, reducing the pressure on it as a result. Remember that in a standing position, the earth's gravity pulls the spine downward and thus compresses the discs, nerves, and vertebral bodies. Inversion therapy reverses this impact, reducing spinal compression in the process and relieving lumbar pain in the process.
Are Inversion Tables Good for Pinched Nerve in Back?
A pinched nerve happens in the spinal column when the outer shell of the spinal disc ruptures and the cushion inside it sticks out of the ruptured area. The disc's inner core would then force a spinal nerve to go against the bone of the vertebrae. The pinched nerve thus causes pain in the part of the body where the nerve is connected to, like the arms, legs, or the back.
How does inversion therapy relieved pain caused by pinched nerve?
By reversing the effects of gravity on the spine, the vertebrae are stretched and the spaces between increased. The result is decreased pressure on the spinal discs, allowing the center of the disc to stop pushing on the pinched nerve.
Are Inversion Tables Good for Sciatica?
Sciatica or sciatic pain starts in the lower back, going through the sciatic nerve found in the leg. Using an inversion table regularly can reduce the pain caused by this condition. The inversion table can reverse the effects of gravity on the spine, which may have pinched nerves. Likewise, the muscles surrounding the sciatic nerve could relax, restoring nerve function, enhancing mobility of the ligaments and relieving pain in the process.
Inversion Table Buying Guide
Here at Respectable Reviews, we know that buying an inversion table can be overwhelming especially if it is your first time to shop for one. With the number of models in the market, you will naturally be confused on which table to pick. There are several factors that you have to keep in mind—comfort, safety features, durability, price, and convenience. One of the best ways to determine the best inversion table given your needs and budget is to read online reviews.
In choosing an inversion table, choose one that can be adjusted to accommodate different body types. A good conversion table can accommodate height ranging from five feet to seven feet, and is strong enough to support individuals weighing 250 pounds or more. It should also have some padding and head support to ensure that the user will be comfortable while on it.
The inversion table should have safety features like feet and ankle support. Safety is a key feature or factor that you'd need to consider because you'll be inverted using the table. You must also find a table that is easy to assemble and store, with a lightweight but sturdy frame making it convenient to store anywhere. Lastly, the table should be durable enough to last for a long while and must be reasonably priced.
Inversion Table History
Inversion tables have been around even before modern manufacturers thought to aptly name them as such. In ancient times, specifically during the start of Hippocrates' career as the founder and father of Medicine, inversion therapy was being used by common workers and soldiers to ease their body pains after a long day at work or the battlefield.
While the actual term was not coined until the late 19th century, people have been using the technique for ages to alleviate their back problems without the aid of medications.
Hippocratic Bench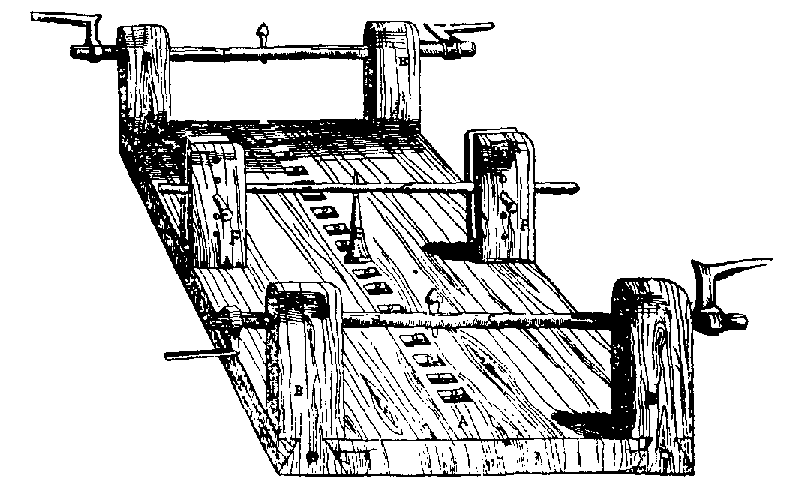 The Hippocratic Bench is the very first, albeit crude inversion table, which was used with ropes (which are connected to winches) for binding the person and facilitating the pulling action.
The first users of the Hippocratic Bench have experienced excellent improvements with their back problems, not to mention the effective reduction of pain, which allows them to be more productive. That said, the process was very crude and sometimes dangerous due to the lack of safety features. In addition, the therapy required the assistance of at least one other person in order to ensure that the ropes remain secured and that the winch works properly.
Hippocrates posited that regular use of the Bench will alleviate even more serious back problems such as slipped discs, and curvature of the spine. After many centuries and countless iterations, the Inversion Table finally reached the pinnacle in terms of design and functionality.
The 21st century has seen excellent improvements in Inversion Tables as they are now equipped with safety features such as ankle locks, in addition to functional features that are designed to make the table more flexible in use and range.
Perhaps the biggest and most profound improvement is the reinforced steel frame that is used in most inversion tables (especially mid and high-end models), which ensures safety as well as durability. Some tables can hold up to 400 pounds of weight at a time, which is a testament to just how hard manufacturers work to make it a strong machine.
What the Medical Community Is Saying
In most cases, physicians (particularly orthopedic and spinal doctors) do not recommend patients to undergo at-home treatments for their backs. It is mostly to prevent further injuries that may be caused by improper use of machines. While it is wise to heed your doctor's advice, many people still prefer to use inversion tables.
Modern inversion table designs have been created with substantial input from medical professionals in order to bridge the gap between holistic treatment and medical facts. These days, physical therapists as well as orthopedic experts recommend inversion therapy as a way to deal with a wide range of back problems. In fact, it has become widely popular as an alternative to corrective spinal surgery.
More Inversion Table Basics
The inversion table is among the simplest at-home therapy machines anyone can own. While there are several models and brands available in the market, its primary function is pretty much the same. Inversion tables are designed to reduce the pressure on the spine, which allows it to decompress and heal itself.
Gravity is the body's worst enemy, which is why it would help to alleviate the pull by way of inversion. The more time you spend upside down (inverted), the more your spinal health will improve. That said, most experts do not recommend people to do inversion therapy for more than one continuous hour per session.
Are All Inversion Tables Created the Same?
Sadly no. Each inversion table is created differently since various manufacturers have their own distinct line of products. This makes it a bit harder to choose from among hundreds of different tables with varying features and price points.
First time buyers might find themselves rather overwhelmed at the sheer number of choices. When buying an inversion table for the very first time, it helps to have access to reliable and factual product information. There are excellent products in the market today, and you can learn more about each one through honest reviews and buying guides.
Setting Your Expectations Right
The benefits of inversion therapy are numerous and on many levels, quite impressive. However, the results one can expect from using an inversion table (regardless of frequency) may vary since there are different variables involved. For starters, there are back problems that are simply so severe that they cannot be fixed using this type of therapy.
During the first two weeks of using an inversion table, you can expect minor improvements such as lessening pain in your problems areas. People with chronic back pain would notice this change almost immediately since the spine is relieved of the constant pressure.
Who Should Use Inversion Tables?
People suffering from chronic back pains
Those who want to correct their posture
People with weight problems and pinch nerves on the spinal area
Anyone who carries a lot of stress on their lower back (if you sit/stand/crouch for long periods of time, this is likely to occur)
How Often Should You Do Inversion Therapy
It is important to know that buying an inversion table should be something that you can make the most out of. This means learning how to use the device well in order to get the best possible results.
Some of the best tables in the market include various exercise that are designed specifically for people using inversion therapy. These exercise routines are useful not only for dealing with back pain but also for purposes of muscle building and general fitness.
For something that was conceived before people even thought of indoor plumbing, inversion tables sure have come a long way. If you take a look at the available choices in the market today, it is quite obvious that there is an inversion table for everyone.
Whether you constantly suffer from back pain or are simply advancing in years and are in need of a bit of help relieving pressure from your spine, inversion therapy is great method to employ. The results very promising and the time and money you need to invest would be well worth it.
A Comprehensive Guide to Inversion Therapy

Extensive medical research has shown that inversion therapy provides relief for back pain, and unless you are suffering from a heart condition, glaucoma or high blood pressure, it is very safe to use. There was a time when it was considered as a fad, but continuous research has demonstrated there is sound medical basis for the treatment, not to mention numerous testimonials.
How the Treatment Works
Inversion table therapy works on the principle of reduced gravitational pressure, thereby minimizing the pressure on your spine disc and nerve roots. At the same time the therapy improves spacing in your vertebrae, and it's been shown that the treatment is effective in stretching your spine and relieving back pain. In fact there's been a series of studies indicating that the process isn't just for short term but long term relief as well.
The answer to the question "does inversion therapy work" is yes, and while it works perfectly as standalone, it is also works well alongside other treatments for relieving back pain brought about by spinal compression. Studies show that lower back pain (LBP) is very common, right next to the common cold. There are many reasons that may cause it such as frequent bending, heavy lifting, incorrect sitting posture and more. While there are many kinds of treatments available, an inversion table remains one of the most effective.
A Closer Look at Inversion Tables
The most distinguishing characteristics of inversion tables are the hinges and metal frame that connect the unit. To use an inversion therapy table you must strap yourself on it and slowly flip the table over, inverting your body in the process. Different designs and styles are available, with prices ranging from a $100 to over $400, but the basic working principle is the same. Once your body is flipped over the pressure on your discs, joints and bones are reduced, producing a traction going into your spine, reducing back pain. The inversion treatment is also known as gravitational traction.
Are There Risks Involved in the Therapy?
As pointed out earlier, there's been extensive medical and scientific research proving that inversion traction is completely safe. However, those with eye or heart problems should consult a doctor before proceeding. As many inversion therapy reviews have pointed out, a medical checkup should be done first if you're suffering from any serious health condition.
What the Medical Evidence Says
The scientific and medical evidence in favor of gravitational therapy is increasing, and numerous studies point out that traction force does occur in the lumbar spine, and there was one particular study which proved that the therapy generates as much as 3 mm of separation between the lumbar vertebrae, something that used to be attainable only in costly medical procedures.
Beginning in the mid-1990s and onwards, numerous studies emerged indicating that inversion tables can treat sciatica and other types of back pain. Furthermore, doctors discovered that LBP traction efficacy is very high and that lumbar traction does help reduce lower back pain, in many cases significantly. By the 2000s, many physical therapists had arrived at the conclusion that gravitational traction therapy works. Provided the treatment is done at a regular basis and the patient remains physically active, pain relief will be experienced.
Based on the latest medical and scientific evidence, inversion therapy is a legitimate form of treatment for sciatica and other kinds of lower back pain. Some patients experience relief from the treatment alone although it's much better if you combine the therapy with exercise routines and by going through your normal everyday functions. The exercises are helpful, but as experts have noted the benefits become more pronounced when used with this therapy.
Getting Started with the Therapy
If apart from the LBP you're not suffering from any other serious health condition, there's no reason why you cannot get started on the program. But if you're not sure how to proceed or just being cautious, talk to your physical therapist first who might be able to help you prepare for the therapy. Apart from the therapy table don't forget about the exercises as well as changing your standing and sitting postures so you don't aggravate your condition.
While the therapy helps reduce the pain, you should also look at the possible reasons for it, and if you can take steps to prevent it. For instance, if the pain worsens because of the way you sit or stand, you must change your postures so the problem doesn't return.
Before moving on to the benefits, you may be wondering if inversion therapy without table is possible. The answer is yes it is possible, as there are gravitational boots and inversion chairs available. However, a table is more convenient and provides numerous adjustment features so you're more comfortable during the therapy. Furthermore, the table provides a number of benefits that chairs and boots cannot provide.
What Gravitational Traction Therapy Can Do
First off, the therapy relieves the pain on your back to the point you can proceed with your day to day activities. Second, the therapy doesn't cause you to "shrink" as usually happens when you suffer from back problems. By undergoing therapy on a regular basis you'll be able to maintain your height. Third, inversion table therapy improves blood circulation because gravity helps rather than going against it. The same benefit extends to your lymphatic system so your muscles and tissues are able to recover from aches and pains faster.
A large number of patients who undergo this therapy also attest to the fact that the therapy is a stress reliever. The pain doesn't just go away, but the stretch revitalizes your body, similar to what you would feel when practicing yoga but without as much physical effort. Because the treatment reduces stress and pain you'll be able to sleep better.
Inversion Therapy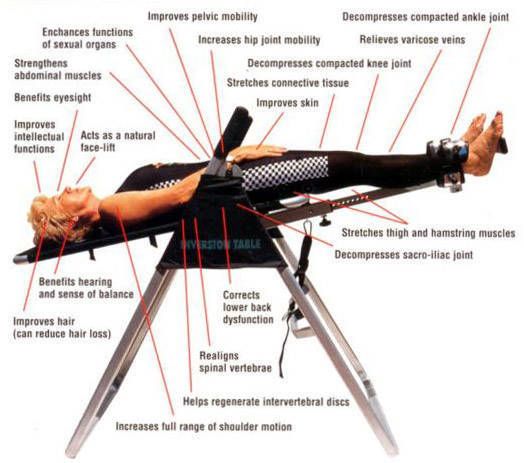 Regular therapy sessions using an inversion therapy table also increases your state of mental alertness because extra amounts of oxygen reach your brain. According to health experts, the infusion of additional oxygen goes a long way towards sharpening the brain's activities. The benefits also go beyond the mental as it promotes flexibility and increases your range of motion. The latter is especially important since a lot of people suffer from a lack of mobility due to their LBP.
With inversion therapy it's not just your back, but your joints will loosen up as well so you can continue to be active even as the years advance. The stretching and reversing of the gravitational force helps your body stand, move and sit gracefully and easily. This won't happen overnight but over time your condition will improve. But the relief isn't due to a placebo effect. The reason why the therapy is so effective for treating sciatica and other back pains is your spine gets realigned after working out.
That's the difference between gravitational traction and other workouts like running and aerobics. Those two, along with other routines, compress your spine, while activities like tennis and golf put a lot of pressure on it, causing spinal misalignment and pain. By undergoing therapy, the misalignment will be corrected.
Inversion Therapy Guide for Beginners
If you're asking does inversion therapy work, the answer is definitely yes, but it will only be effective if done properly. Your physical therapist can provide some guidance but you can do it on your own. For the first two weeks, adjust the table so it is set at 20 to 30 degrees for 1 to 2 minutes until you are comfortable with the position.
The easiest way to determine if you're getting used to the treatment is when you reach the point that you can relax at the given position. If you read inversion therapy reviews you'll notice that people have different tolerance levels, so stick with what you're comfortable with.
After two weeks your body should be comfortable, so adjust the therapy table to any setting that doesn't exceed 60 degrees. Also try to work your way up to 15 minutes once or twice daily. Keep in mind there are two kinds of inversion, static and intermittent.
Static inversion will have you holding yourself at the specified angle without moving. An intermittent inversion has a rocking motion, alternating 20 to 30 seconds inverted and 20 to 30 seconds upright. Some people feel more comfortable with the intermittent position while other prefer static. Either way, both are more effective than inversion therapy without table.
After two more weeks you should be prepared for full complete inversion therapy where your body is upside down. The amount of time you should do the full inversion can be 5 to 15 minutes, but if you can last much longer on your inversion table, go right ahead, but usually 15 minutes is the maximum. Remember that it is important you start out slow to avoid problems later on. By being patient you'll receive the benefits you're looking for.